Sanne Boekel (1995) is an illustrator and screenprinter based in Groningen. (NL) As an illustrator, she is always searching for narratives in socio-cultural contexts and the absurdism of our modern lives. Her work can be described as humoristic, activistic and playful.
If you have any questions or suggestions:
︎ Sanne_Boekel
︎ sanne.boekel@live.nl
CV
Education
2018 BA Illustration, Minerva Art Academy, Groningen 2017 Internship at ATAK, Prof. Georg Barber, Berlin
Award
2018
Minerva Art Academy Design Award
Selected clients
De Correspondent, Uitgeverij Loopvis, Wobby Risograph Magazine, Graphic Matters Breda, TILT Literatuurfestival Tilburg, GRID Groningen, Museum DR888, bijVrijdag, Poëziepaleis, Sociëteit de Kring, Hanze University, Dagblad van het Noorden, BNO NEXTpack Superfast, Beroepsorganisatie Nederlandse Ontwerpers, Klimaatadaptatieweek Groningen, Juiststraks.nu, Fresh Forward, Keunstwurk, Royal Talens Apeldoorn.
Exhibitions
Currently: Car-antenne, Societeit De Kring, Amsterdam
2019 Aline, Wg Kunst, Amsterdam 2019 Panta Rhei, Forma Aktua, Groningen 2019 Het Klimaatcasino, Kunsthal45, Den Helder
2019 Drawing the Line, Kunstpodium T, Tilburg 2019 Meaningful Manuals for Millennials, Graphic Matters, Breda 2019 City Central, Groningen
2019
Kunstenaarsboeken
, Kunsthal45, Den Helder
2019
Ons geluk
, De Secretatie, Meppel
2019
Inside Outside Minerva
, GRID, Groningen
2018
BNO: YA Present
, Dutch Design week, Eindhoven
2018 Kunstboekenweek Groningen
2018
RaRaRiso
groupshow, GRID Groningen
2018 Headliners Graduation show Academy Minerva
2018
Rebel Rebel: Girls to the front
, Groningen
2017 Illustratie57, Groninge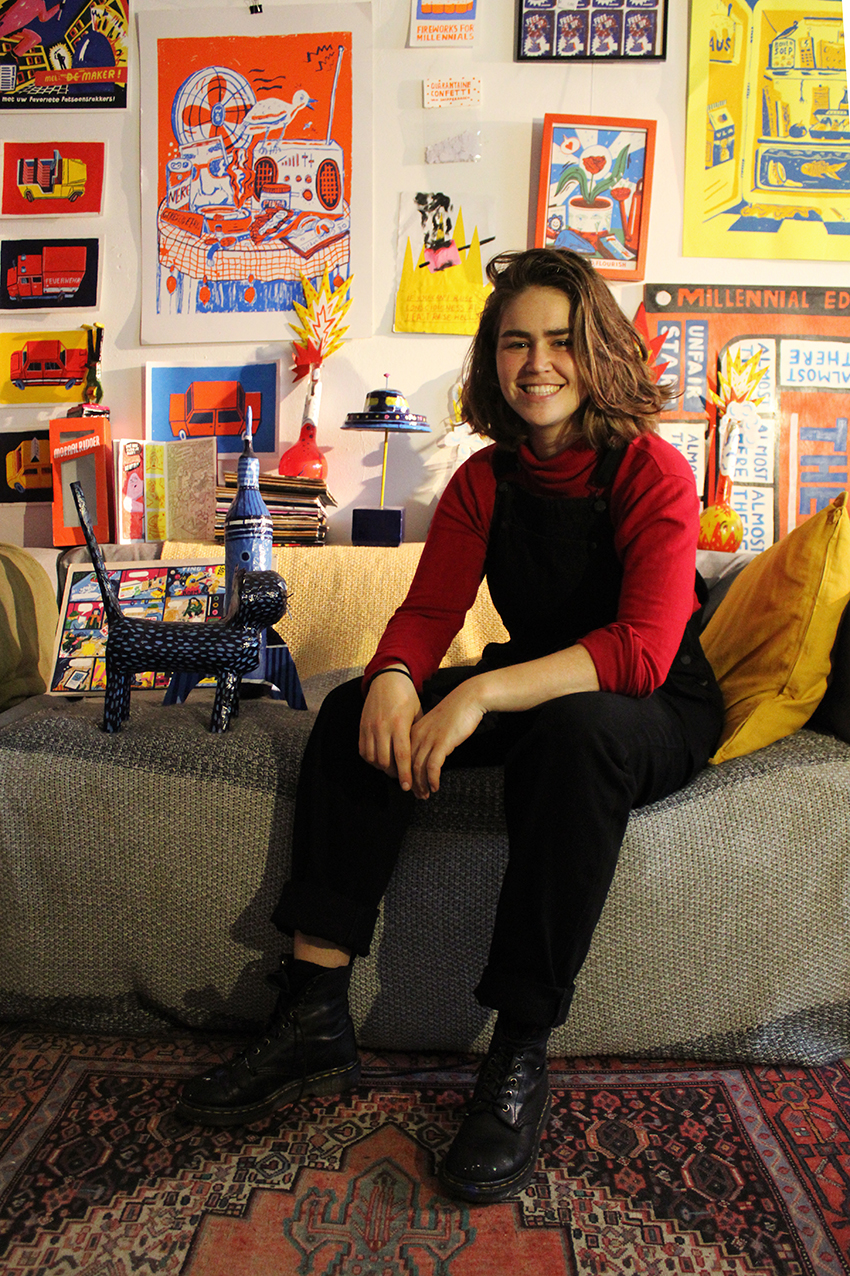 Selection of lectures:
2021: Workshop Activitisch Tekenen, Dus Wat Gaan We Doen-Festival
2020: Lecture / workshop, Where to draw the line
2020: Lecture / workshop, Satire in comics, Studium Generale, RUG
2020 Lecture / workshop, Royal Talens, Apeldoorn
2019: Lecture / workshop, Activistic fanzine in post-punk, Academy Minerva Projectweek
2018-2020: Several workshops in secondary education, often in interrelational contexts.

Other
2021 - now Algemeen Bestuurslid Beroepsorganisatie Nederlandse Ontwerpers
2021: Intervention during Climate Adaptation Week, Groningen.
2020: Participating in Generous City Groningen
2020: Projectcoordinator BARRICADES Festival
2019: Residence ALINE, WG Kunst, Amsterdam
2019: Residence Kunsthal, Den Helder, October 2019
2019: BNO - Projectcoordination Visual Identity
2019 : Projectcoordinator Illustratie57 BARRICADES Festival
2019: Projectcoordinator on diverse projects within Academy Minerva.
2018: Projectcoordinator AIR Academy Minerva


Links: